Benefits Of Powder Coating In Metal Fabrication
November 26, 2022
No Comments
Whether you're a metal fabricator or a metalworker, powder coating offers some great benefits. These benefits include improved quality, reduced finishing time, and the opportunity to choose from a variety of finish options.
Reduces Finishing Time
Whether you are a metal fabricator or an industrial user, you can benefit from a powder-coating process. It provides many advantages over other finishing methods. It reduces costs, increases functionality, and is environmentally friendly. It is also easy to apply. You can choose from a variety of colours, finishes, and textures.
Reduces cost: One of the biggest advantages of powder coating is the reduction in processing time. It usually dries in less than 30 minutes. Powder coatings are also very durable and offer protection against wear and weather. This helps keep products in tip-top condition. It also saves on replacement products.
Environment Friendly: Another advantage is that powder coating is more environmentally friendly. It reduces the amount of hazardous waste that is produced, which contributes to air pollution. It also produces fewer carbon dioxide emissions.
Increases Functionality: Powder coatings also tend to be cheaper than other finishes. However, they can be difficult to apply if the thickness is too thin. They can also cause orange peeling textures if they are applied improperly.
Improves Quality
Choosing the right powder coating for your metal fabrication project can make a big difference in the overall quality of your finished product. This coating provides durability and strength to your metal objects, while also protecting them from corrosion and damage. It is also a more environmentally-friendly alternative to conventional wet painting.
Easy to use: One of the main advantages of powder coating is that it is easy to apply and requires less processing. It is also less expensive than paint. It also provides a wide variety of finishes and colour options.
Environment Friendly: Powder coating can be used on all kinds of metal products. It is also highly resistant to corrosion and flaking. It is also environmentally-friendly and safe to handle and recycle. It provides a durable finish that doesn't require sanding or buffing, and won't chip off or rust.
Appearance: Some of the most common finishes are high gloss, matte, and glitter. They can also be custom-colored and textured. Powder coatings have been shown to be more resistant to rust than traditional paints. This makes them an ideal solution for metal fabrication projects.
Also, read about Role Of Industrial Coatings Applicator
Gives Users a Variety of Finish Options
Using powder coating in metal fabrication gives users a wide variety of finish options. It also improves durability and corrosion resistance. The process is a good choice for metal parts that bend, flex, or twist. Powder coatings are sprayed onto the part and cured in a heated oven. During the process, the powder melts, creating a tough and durable finish.
Powder coating is more cost effective than liquid paints and can be applied to a greater variety of materials. It also uses less raw materials and equipment. It is also safe to use and produces less pollution.Metal fabrication is an essential part of our society. It is used in virtually every aspect of life, from infrastructure to commercial businesses. The finished product improves aesthetics and value, extending the life of a project. It also protects the metal from rusting outdoors and indoors.Choosing the right metal fabrication company will ensure that your project is finished with the best possible results. Choosing a company that finishes products on-site will increase quality control and lead times.
Is Environmentally Friendly
Whether you're looking to protect your steel or aluminium fabrication from corrosion or simply add a new finishing touch powder coating can do it. The process is eco-friendly and reliable. It is a cost-effective alternative to liquid paints.In addition, powder coating is a more durable finish. It is resistant to corrosion and UV rays. It also has a cosmetically appealing finish. It can be applied to many types of metal, including stainless steel, galvanised steel, and aluminium. The process is also versatile, making it a good choice for a wide variety of materials.
The powder coating process is also highly energy efficient. It requires less energy to heat and cool than conventional liquid paints. It also creates less hazardous waste than its liquid counterparts.The powder coating process is solvent-free, so it produces zero airborne pollutants during application. This means that powder coating is one of the least harmful alternatives for finishing metal pieces.The process also requires less energy to maintain than conventional liquid coatings. Because powder coating is environmentally friendly, it's easier for manufacturers to comply with national environmental protection standards.
Euclid Refinishing Company provides you various benefits of Metal Fabrication Powder Coating. Our business will help you by providing a variety of services in Cleveland, Ohio.
Recommended Posts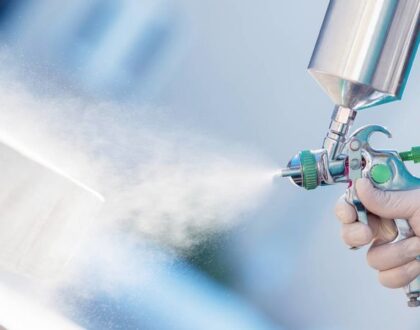 January 17, 2023